Front and Rear Crosses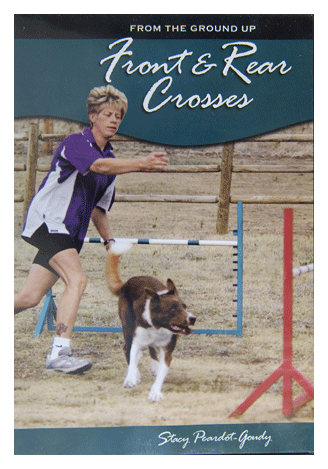 Front and Rear Crosses
Regular price
$4900
$49.00
Author: Stacy Peardot-Goudy
Format: DVD
Running Time: 55 mins
Release date: 2008
In competition and practise we see all sorts of poorly executed crosses and dogs that do not fully understand their handlers' cues for crosses. This can result in spins, off courses, dropped bars, wasted strides, unnecessary stress on the dog's body and even decreased motivation because the dog is unsure about what the handler wants.
A properly executed front and rear cross should lead to a seamless change of side without hesitation in the dog's forward movement. To achieve this, the dog must be taught the specifics of the cross itself and all the body language and any verbal cues that are associated with the cross.
This DVD covers all of the steps involved in teaching front and rear crosses and the training methods used are appropriate for puppies, dogs that need to be retrained and all of the stages in between.
Orders will generally be shipped to you by regular Australia Post (uninsured) or a best priced Courier.
How long does it take for your order to arrive?
Generally orders will be despatch TWICE per week on a Monday/Tuesday and Thursday/Friday depending on volume of orders. Once dispatched, regular Australia post/Courier delivery times apply. Please refer direct to Australia Post/courier for delivery times to your area. Tracking details will be sent to you once your order is packed ready to be despatched.
Shipping for BULKY items requiring couriers will be quoted and invoiced separately using Paypal. Couriers require a physical delivery address.
For more details on our delivery service please click on the appropriate link found in the footer menu.
We offer HASSLE FREE returns within 14 days of purchase if you change your mind. For more details please click on the appropriate link found in the footer menu.