Dog Cavaletti Kit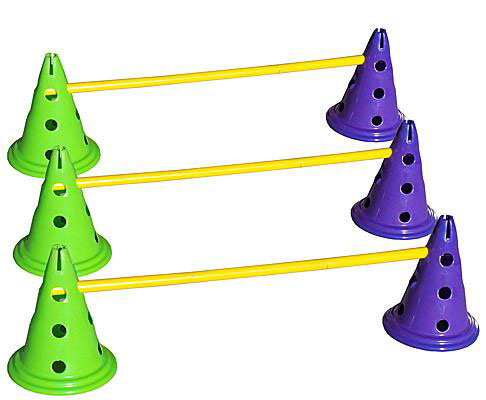 Dog Cavaletti Kit
Regular price
$12900
$129.00
Cavaletti training for dogs is important for all dog sports including agility, obedience, doggy dancing and Rally O
PLEASE NOTE due to the bulky nature of cavalettis, **COURIER COSTS are quoted and billed separately via Paypal ** Similarly, due it the size and weight of the box, we do not ship to PO Boxes as it is normally  more economical to use courier instead of Aust Post.

Benefits of cavaletti training are:
• Improves hip rotation, extension and knee flexion
• Improves balance and proprioception
• Improves strength and endurance
• Improves rhythm and coordination
• Prepares a dog for jumping
• Improves stamina
• Adds variety to training and strength work
• Shortening the length between the poles helps a dog learn to collect
• Lengthening the space between the poles helps the dog to lengthen their stride
and more!
How to start:
Cavaletis may be set at varying heights from the floor but only up to the level of the hock. There are specific training that prescribe a higher height but are targeted at achieving different fitness goals - please only use higher heights under instruction from a fitness professional. It is recommended to start with the poles at  GROUND level before raising.
The cavaletis should be approximately one body length to one and a half body lengths apart. It is easier to start a dog new to cavaletis at body length 1-2 poles at a time until they learn to trot over the poles instead of bunny hopping. Cavalettis at body length apart will work more balance and proprioception. It is not advisable to increase distance of cavalettis beyond one and half body length.
A cavaletti set consists of:
12 cones and 6 poles
Height of cones: 30cm with 3 separate height settings
Color - BLUE only cones with yellow interlocking poles of 1 m length 
NOTE: Cavalettis used in the video demos below are a different make and size. The ones for sale are an improved size!
https://youtu.be/qW8lXMZFfnA
Orders will generally be shipped to you by regular Australia Post (uninsured) or a best priced Courier.
How long does it take for your order to arrive?
Generally orders will be despatch TWICE per week on a Monday/Tuesday and Thursday/Friday depending on volume of orders. Once dispatched, regular Australia post/Courier delivery times apply. Please refer direct to Australia Post/courier for delivery times to your area. Tracking details will be sent to you once your order is packed ready to be despatched.
Shipping for BULKY items requiring couriers will be quoted and invoiced separately using Paypal. Couriers require a physical delivery address.
For more details on our delivery service please click on the appropriate link found in the footer menu.
We offer HASSLE FREE returns within 14 days of purchase if you change your mind. For more details please click on the appropriate link found in the footer menu.