Dog Tornado by Nina Ottosson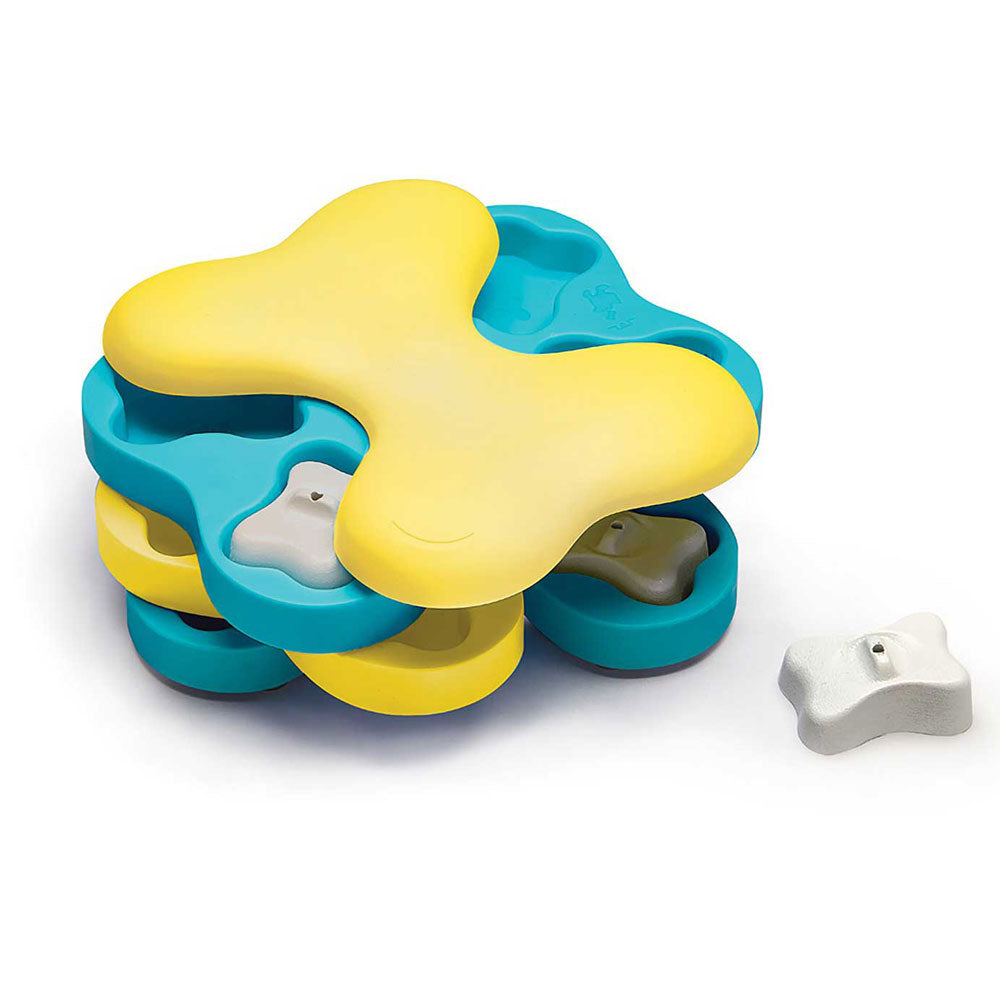 Dog Tornado by Nina Ottosson
Regular price
$4300
$43.00
Complete with four layers of spinning fun, The Dog Tornado is sure to become your new go-to treat dispensing dog game. Help reduce destructive behavior and eliminate boredom while strengthening the bond between you and your dog, through interactive play with the Dog Tornado by Nina Ottosson.
A SMARTER CHOICE: When it comes to training dogs, dog games and puzzles are a great way to engage and entertain your pup while they learn new skills. No matter the age, size or breed of your dog, Nina Ottosson dog games are as interactive as they are exciting and fun.
MAKE FEEDING FUN: With 12 treat compartments in this dog game, and 3 white bone covers, The Dog Tornado by Nina Ottosson is smart and fun choice for mealtime as it holds your dog's favorite wet or dry kibble.
JUST KEEP SPINNING: Each level of the Nina Ottosson Dog Tornado spins as your dog searches for treats hiding inside. The spinning movement keeps your dog engaged and presents them with a fun and challenging way to play independently.
LEVEL 2 CHALLENGE: Different from Level 1 dog games, Level 2 Nina Ottosson dog games present your dog with more interesting ways to problem solve while giving you new ways to teach and train your dog.
HOW TO PLAY: Place treats or kibble in compartments of base. Cover some compartments with bones. The more covered compartments, the harder the game will be! Let the games begin! Show your dog how the game works and encourage them to find treats. Dogs are smarter than you think. Sometimes we just need to teach them! Leave some compartments uncovered and show your dog how it spins.
FROZEN PUZZLE: Mix some canned/wet dog food or raw food with water, pour some of the mixture in the hollows, or place a small piece of sausage or a tasty treat in each of the hollows, pour a little water, put the game in the freezer and let it set. Perfect for energetic dogs, hot weather, or just extended fun.
PLAY TOGETHER: Nina Ottosson Dog Puzzle Games focus on challenging your dog's brain. Supervise when playing, and don´t let the dog chew on the toy. Teach your dog how to use the puzzle, play and have fun together. Put away until next time.
EASY TO CLEAN: To wash your dog's Dog Tornado, simply remove all treats/kibble and hand wash with warm soapy water, rinse clean and dry. Fill again for more fun!
Nina Ottosson Dog Puzzle Games
• Fights boredom by keeping your dog busy – Boredom Busters
• Helps reduce destructive behavior by exercising your dog´s mind.
• Strengthen the bond with your dog.
• Fun for all dogs – regardless of age & size.
Size: 23,5 x 18 cm, height 7 cm / 9,25 x 7 in, height 2,76 in.
Orders will generally be shipped to you by regular Australia Post (uninsured) or a best priced Courier.
How long does it take for your order to arrive?
Generally orders will be despatch TWICE per week on a Monday/Tuesday and Thursday/Friday depending on volume of orders. Once dispatched, regular Australia post/Courier delivery times apply. Please refer direct to Australia Post/courier for delivery times to your area. Tracking details will be sent to you once your order is packed ready to be despatched.
Shipping for BULKY items requiring couriers will be quoted and invoiced separately using Paypal. Couriers require a physical delivery address.
For more details on our delivery service please click on the appropriate link found in the footer menu.
We offer HASSLE FREE returns within 14 days of purchase if you change your mind. For more details please click on the appropriate link found in the footer menu.