2-On/2-Off Contacts Made Easy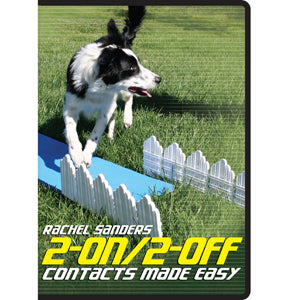 2-On/2-Off Contacts Made Easy
Regular price
$5500
$55.00
Author: Rachel Sanders
Format: DVD, 2 discs, NTSC format
Running Time: 1 hour, 51 minutes
Release Date: February 2012
Are you unhappy with your dog's 2-on/2-off contact performance or are you starting to train a new dog for agility? Rachel Sanders has developed a clever method of teaching a 2-on/2-off contact that does not rely on teaching a nose touch. Instead, it uses simple garden fencing and a travel plank to help teach the dog his end position. The method eliminates much of the time-consuming and meticulous training that has been required in the past to teach a reliable 2-on/2-off contact performance. Training goes quickly because the dog understands the concept of the end position right from the start.
The foundation for the methodology begins away from the agility equipment and can be started with a puppy as early as 12-14 weeks of age. The program also addresses teaching the dog proper weight shift and body mechanics to ensure he is performing the 2-on/2-off end position both efficiently and with as little stress on his body as possible.
In the chapter on problem solving Rachel covers a number of common problems, such as
Coming off the side of the plank
Stalking at the bottom of the plank
Lack of speed
Failure to stop in the competition ring
This program also includes steps for training obstacle independence so that the dog can reliably perform his end position regardless of your handling position.
About the Author
Rachel Sanders lives in Atascadero, California where she operates Fast Forward Dog Sports. For the past 25 years, Rachel has been involved in a variety of dog training activities, including competitive obedience, hearing-dog training, and agility training. Since 1994, her focus has been solely on agility. Rachel lives with five Border Collies (Spinner, Whist, Fable, Stuie, and Gifted) and two JRTs (Trump and Better). She currently competes with Fable, Stuie, and Better. She has earned ADCH titles on four dogs (Spinner, Whist, Trump, and Fable) and MACH titles on three dogs (Whist MACH3, Trump MACH2, and Fable). Rachel and her dogs are familiar faces in the finals of both AKC and USDAA national championships, and she has won the top spot on the podium four times. In addition, Rachel and Fable represented the U.S. in international competition (IFCS World Championships). Rachel is a regular seminar presenter and a favorite instructor at agility camps throughout the United States.
Orders will generally be shipped to you by regular Australia Post (uninsured) or a best priced Courier.
How long does it take for your order to arrive?
Generally orders will be despatch TWICE per week on a Monday/Tuesday and Thursday/Friday depending on volume of orders. Once dispatched, regular Australia post/Courier delivery times apply. Please refer direct to Australia Post/courier for delivery times to your area. Tracking details will be sent to you once your order is packed ready to be despatched.
Shipping for BULKY items requiring couriers will be quoted and invoiced separately using Paypal. Couriers require a physical delivery address.
For more details on our delivery service please click on the appropriate link found in the footer menu.
We offer HASSLE FREE returns within 14 days of purchase if you change your mind. For more details please click on the appropriate link found in the footer menu.