Control Unleashed® Book 2: The Puppy Program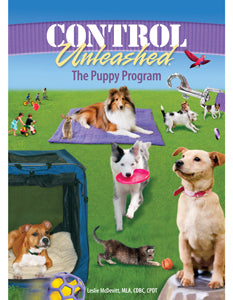 Control Unleashed® Book 2: The Puppy Program
Regular price
$4900
$49.00
Author: Leslie McDevitt, MLA, CDBC, CPDT
Format: Paperback, Full color
Length: 296 pages
Release Date: 2012
Control Unleashed®: Creating a Focused and Confident Dog was written as a problem-solving book to help handlers with mature dogs that were having behaviour problems during canine-sport training or competition. This book is different. Control Unleashed®: The Puppy Program is meant as "preventive medicine" for puppy raisers. Many common behaviour problems can be either prevented or minimized by starting a puppy with good foundation training from the beginning. In addition, this book provides a program that will help you create a puppy that is ready for sport-specific training at the appropriate age—a puppy with the ability to focus on whatever you want, for as long as you want, whenever you want.
"Paying attention" is its own skill set and teaching it should be separate from teaching your puppy more complex behaviours. Without attention, you won't get as far as you want with all those other behaviours you're going to teach because it's likely they will fall apart in the face of distraction. So it is wise to teach the attention skill set as the "base of operations" for your puppy training. The attention skill set includes: Discrimination skills, self-control skills, and arousal regulation skills.
The concepts and suggestions in this book can also be used for rescue dogs that, like puppies, are starting out as "blank slates" as far as your training is concerned.
About the Author
Leslie is a dog behaviour consultant, author, and speaker. She specializes in creating operant counterconditioning procedures to empower working, performance, and pet dogs to feel safe and comfortable so they can function confidently in stressful environments. Leslie's books have been translated into multiple languages and Leslie has taught the material from her seminal book Control Unleashed: Creating a Focused and Confident Dog to people and dogs all around the world. Leslie lives near Philadelphia with two kids, three dogs, two cats, one bunny, and one husband. She is a member of the 2019 Clicker Expo faculty
Orders will generally be shipped to you by regular Australia Post (uninsured) or a best priced Courier.
How long does it take for your order to arrive?
Generally orders will be despatch TWICE per week on a Monday/Tuesday and Thursday/Friday depending on volume of orders. Once dispatched, regular Australia post/Courier delivery times apply. Please refer direct to Australia Post/courier for delivery times to your area. Tracking details will be sent to you once your order is packed ready to be despatched.
Shipping for BULKY items requiring couriers will be quoted and invoiced separately using Paypal. Couriers require a physical delivery address.
For more details on our delivery service please click on the appropriate link found in the footer menu.
We offer HASSLE FREE returns within 14 days of purchase if you change your mind. For more details please click on the appropriate link found in the footer menu.