Drive Development for Competition Obedience with Tami McLeod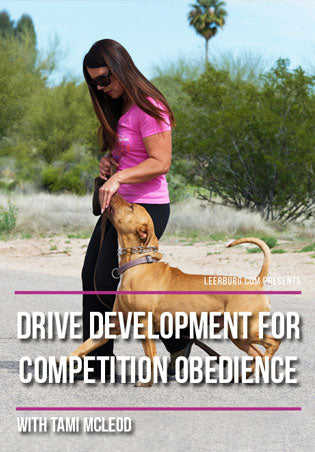 Drive Development for Competition Obedience with Tami McLeod
Regular price
$9900
$99.00
 That's what this DVD is going to teach you. This DVD is designed for both emerging trainers and those who may have already attained an OTCH or IPO title yet want to keep the fire in their dog's belly so he or she enjoys competition for years to come.
This DVD will talk about how to approach dogs with different and varying degrees of drives and temperaments. This is an entry level DVD designed to teach you the quintessential concepts to maximize your dog's drive for the obedience work, and the initial steps critical for advancement.
This DVD concept is comprised of three main components called "The Three Pillars". The first pillar is teaching to think, the second is building drive association on the field, and the third is conditioning in drive states in obedience. This DVD grazes the surface of these three fundamental concepts which is the infrastructure for highly animated and correct obedience.
Orders will generally be shipped to you by regular Australia Post (uninsured) or a best priced Courier.
How long does it take for your order to arrive?
Generally orders will be despatch TWICE per week on a Monday/Tuesday and Thursday/Friday depending on volume of orders. Once dispatched, regular Australia post/Courier delivery times apply. Please refer direct to Australia Post/courier for delivery times to your area. Tracking details will be sent to you once your order is packed ready to be despatched.
Shipping for BULKY items requiring couriers will be quoted and invoiced separately using Paypal. Couriers require a physical delivery address.
For more details on our delivery service please click on the appropriate link found in the footer menu.
We offer HASSLE FREE returns within 14 days of purchase if you change your mind. For more details please click on the appropriate link found in the footer menu.