Puppy Jumping by Susan Salo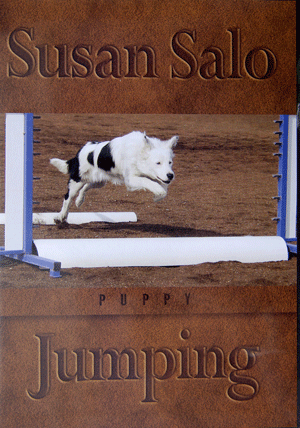 Puppy Jumping by Susan Salo
Regular price
$3900
$39.00
Author: Susan Salo
Format: DVD Running
Time: 1 hr 23 mins
Release date: 2009
Every course your dog will perform is mostly jumps, so he should approach jumps with great confidence and an understanding of how to perform them. Susan Salo has over 35 years of experience in the equestrian world of show jumping as both a competitor and a professional trainer.
She applies this extensive experience to the sport of dog agility and offers a unique perspective and knowledge of the mechanical aspects of jumping which, when properly applied, can create muscle memory and balance for the canine athlete. The focus of her training is not on handling but on building better jumping skills and instilling more confidence and speed in the dog.
Susan Salo believes that the development of these skills begin at the puppy stage- teaching young dogs to read and drive a path to their target, to understand how to react to distance that are constantly changing and to do so without producing extra strides where they are not needed. You can begin teaching puppies about the mechanics of the job ahead between four and six months of age. Because this program is NOT about schooling puppies to jump heights (jump bumps are used), it is safe training for your growing puppy. The focus is on imparting an understanding of jumping and on developing a sharp, flexible mind that can problem solve. You will be surprised at how effortless the grids become for your puppy and at how great the payoff is down the road. Dogs that have been trained from puppyhood using Susan's jumping process not only really enjoy jumping but also move toward a jump full of confidence and without rushing, while using their bodies in a way that makes the task of jumping look effortless.
Orders will generally be shipped to you by regular Australia Post (uninsured) or a best priced Courier.
How long does it take for your order to arrive?
Generally orders will be despatch TWICE per week on a Monday/Tuesday and Thursday/Friday depending on volume of orders. Once dispatched, regular Australia post/Courier delivery times apply. Please refer direct to Australia Post/courier for delivery times to your area. Tracking details will be sent to you once your order is packed ready to be despatched.
Shipping for BULKY items requiring couriers will be quoted and invoiced separately using Paypal. Couriers require a physical delivery address.
For more details on our delivery service please click on the appropriate link found in the footer menu.
We offer HASSLE FREE returns within 14 days of purchase if you change your mind. For more details please click on the appropriate link found in the footer menu.