Flirt Pole with Faux Fur and Fleece Strips CHASER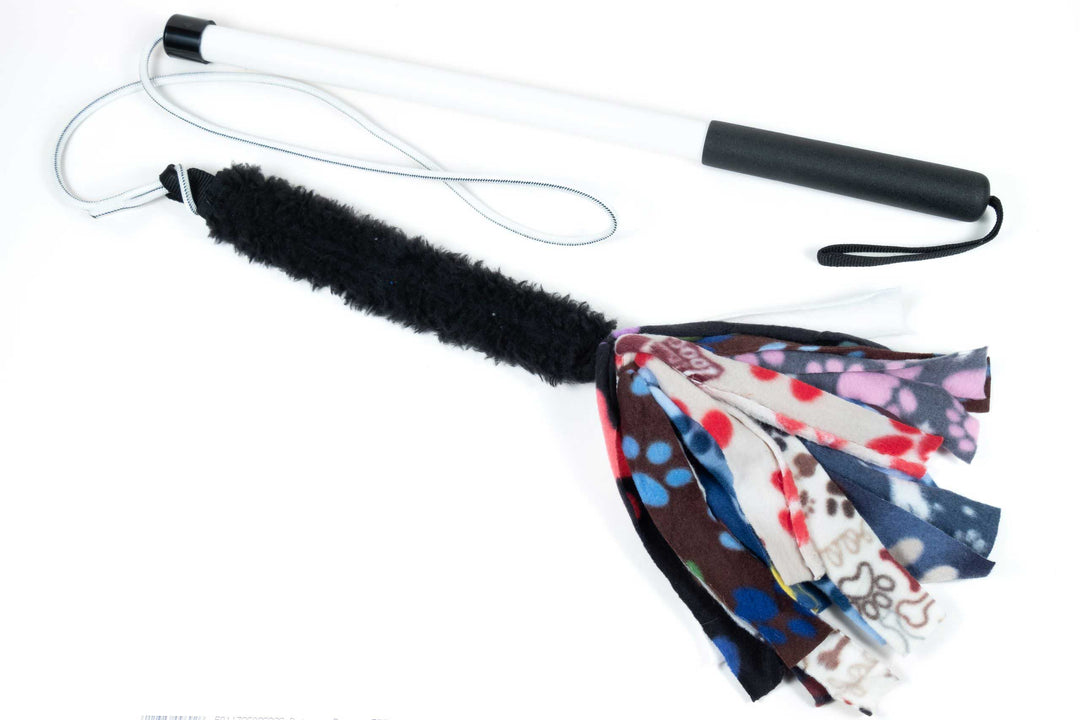 Flirt Pole with Faux Fur and Fleece Strips CHASER
Regular price
$7500
$75.00
I have searched for a long time for a DURABLE Flirt Pole and finally found the Squishy Face Studio flirt pole with Faux Fur Chaser by Performance Dog UK. 
The ideal toy for encouraging reluctant players
INCLUDES ONE FLIRT POLE AND FAUX FUR with Fleece Strips 
The flirt pole has given handlers the means of encouraging interactive play – and now we have gone one better!
The squishy face studio flirt pole is a tried and trusted favourite, enabling safe and effective distance play, and now you can make the game even more enticing by adding a faux fur attachment which your dog will find irresistible.
The flirt pole allows you to be creative, awakening your dog's predatory drive with games of chase and hide-and-seek, and then when he is ready to pounce, there is the perfect bite area for him to hold on to.
The faux fur attachments are designed with a loop so they are easy to attach, and they are of a sufficient size to allow your dog to engage him in a gentle game of tug, without issues of re-gripping.
Suitable for chase & a GENTLE game of tug. Once you have ignited the tug drive, it is time to progress your dog to one of the many tug toys we offer.
Color of fleece strips may differ from the photo
FLIRT POLES

The flirt pole is the perfect way to provide exercise for your dog and work on impulse control exercises at the same time. We've chosen the Squishy Face Studio range of equipment for it's sturdiness and excellent design.
It's the only toy on the market that uses bungee cord to prevent whiplash when the lure is caught. •Easily change lures without the use of fasteners that can injure your dog's mouth
Lightweight –  weighs less than one pound.
Soft, non-slip grip and wrist strap for easy handling
Orders will generally be shipped to you by regular Australia Post (uninsured) or a best priced Courier.
How long does it take for your order to arrive?
Generally orders will be despatch TWICE per week on a Monday/Tuesday and Thursday/Friday depending on volume of orders. Once dispatched, regular Australia post/Courier delivery times apply. Please refer direct to Australia Post/courier for delivery times to your area. Tracking details will be sent to you once your order is packed ready to be despatched.
Shipping for BULKY items requiring couriers will be quoted and invoiced separately using Paypal. Couriers require a physical delivery address.
For more details on our delivery service please click on the appropriate link found in the footer menu.
We offer HASSLE FREE returns within 14 days of purchase if you change your mind. For more details please click on the appropriate link found in the footer menu.