Faux Fur with Chuckit & Bunny Tails Bungee tug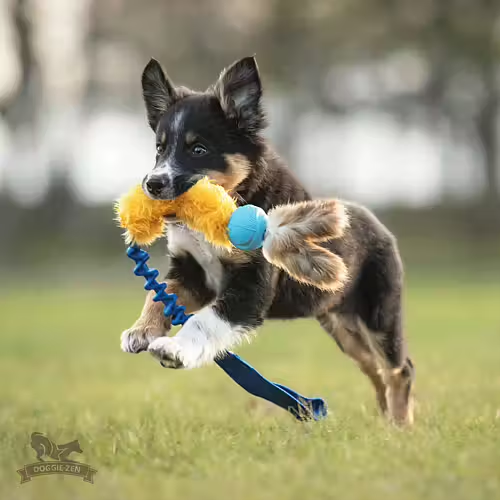 Faux Fur with Chuckit & Bunny Tails Bungee tug
Regular price
$4999
$49.99
A shorter ON THE GO version of our popular chaser tug - perfect for training!
The Faux Fur Tug with Chuckit Ball & Rabbit Tails is for the dog that loves to TUG. The toy consists of a BUNGEE handle, a generous section of thick fluffy luxury fake fur (the dogs love it!), a small Chuckit Fetch ball (2inch diameter) and two triggering Swedish 3.5 inch rabbit "tails". The ball gives the toy extra weight so that it throws well if you toss toys for rewards.
Assorted natural fur colors, rabbit hide and nylon handle colors; please allow us to choose for you.
The bungee handle is made of products that are also used by climbers, durable even for the strongest fighters.
Size Total length: approx. 60 cm Handle: approx. 35 cm Fake fur: approx. 15 cm Chuckit S: 5 cm Tails: approx. 8 cm

Ball color- Blue or orange. Please allow us to choose
Handle color - Purple, Green, Red and Dark pink. Please allow us to choose
Faux fur color: Golden, Apricot, 
Orders will generally be shipped to you by regular Australia Post (uninsured) or a best priced Courier.
How long does it take for your order to arrive?
Generally orders will be despatch TWICE per week on a Monday/Tuesday and Thursday/Friday depending on volume of orders. Once dispatched, regular Australia post/Courier delivery times apply. Please refer direct to Australia Post/courier for delivery times to your area. Tracking details will be sent to you once your order is packed ready to be despatched.
Shipping for BULKY items requiring couriers will be quoted and invoiced separately using Paypal. Couriers require a physical delivery address.
For more details on our delivery service please click on the appropriate link found in the footer menu.
We offer HASSLE FREE returns within 14 days of purchase if you change your mind. For more details please click on the appropriate link found in the footer menu.