Training Solutions for Weave Pole Problems & Proofing Exercises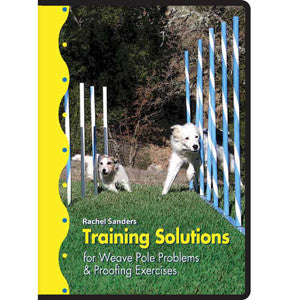 Training Solutions for Weave Pole Problems & Proofing Exercises
Regular price
$6900
$69.00
Author: Rachel Sanders
Format: DVD, 1 discs, NTSC format
Running Time: 1 hour, 11 minutes
Release Date: August 2012
There are a variety of methods that can be used to train weave poles, and all of them can be successful. But regardless of which method you use to train your dog to weave, you can improve your dog's understanding of the weave poles and achieve a more accurate and consistent performance by proofing the weave poles. The proofing exercises included on this DVD will cement your dog's understanding of the obstacle and teach him to perform the poles independently even as you move to get to your next handling position.
In addition, specific exercises can be used to help put an end to many common weave pole problems:
Dogs that don't collect to enter the poles
Dogs that struggle with difficult entries
Dogs that pop out of the poles
Dogs that skip poles
Dogs that don't like to touch the poles
Dogs that have trouble with different types of poles & bases
Dogs that won't stay in the poles when you are ahead of them
Dogs that can't stay in the poles if you increase lateral distance or motion
Finally, the DVD provides maintenance weave pole work that is appropriate for all dogs throughout their competition career.
Orders will generally be shipped to you by regular Australia Post (uninsured) or a best priced Courier.
How long does it take for your order to arrive?
Generally orders will be despatch TWICE per week on a Monday/Tuesday and Thursday/Friday depending on volume of orders. Once dispatched, regular Australia post/Courier delivery times apply. Please refer direct to Australia Post/courier for delivery times to your area. Tracking details will be sent to you once your order is packed ready to be despatched.
Shipping for BULKY items requiring couriers will be quoted and invoiced separately using Paypal. Couriers require a physical delivery address.
For more details on our delivery service please click on the appropriate link found in the footer menu.
We offer HASSLE FREE returns within 14 days of purchase if you change your mind. For more details please click on the appropriate link found in the footer menu.