TugAway Bungee Buffalo Tuff Bar Tug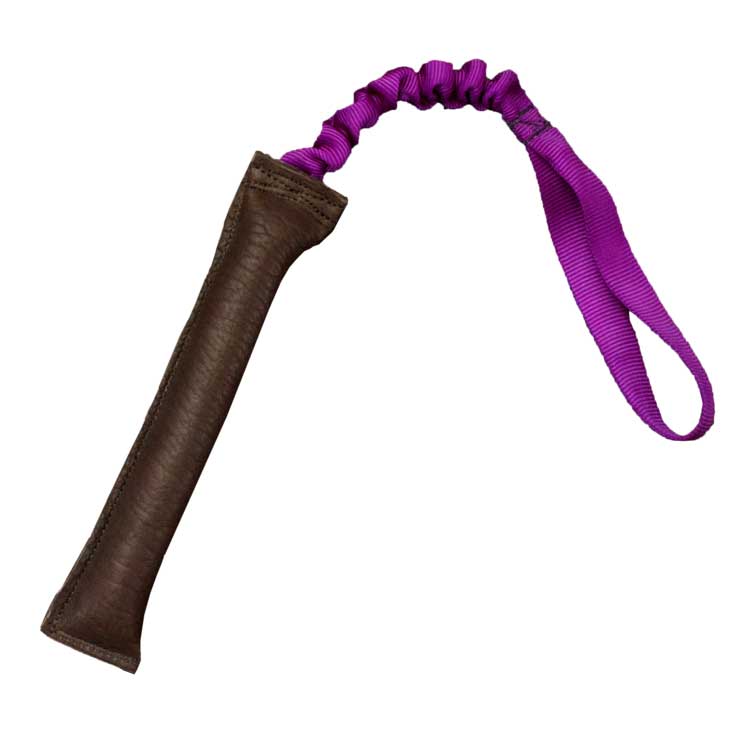 TugAway Bungee Buffalo Tuff Bar Tug
Regular price
$3600
$36.00
The Bungee Buffalo Tuff Bar Tug is made with finished buffalo hide, one of the toughest natural hides available. We have tested the toy with some of the toughest tuggers we could find and the toy has proven itself a winner. Not only is it tough, but the hide feels smooth, soft, and supple so the dogs really like the feel of it in their mouths.
The "bungee" portion of this toy is made from soft-touch nylon covering special shock cord. It is designed to act as a shock absorber between you and the dog so that you'll be more comfortable while tugging and to provide exciting resistance to the dog without you actually having to pull hard on the toy. This keeps tugging fun for the dog, but makes tugging easier on your body! The tension is just right for this purpose; you don't need to worry about the toy flying back at you or the dog.
The soft-touch handle is available in assorted colors and the leather comes in Tan or dark brown.
Note: 
The buffalo hides used to make this toy comes from California, Wyoming and Wisconsin. The hides are tanned using lime, salt, baking soda and/or ammonium alum, making a safe and attractive toy. 
Available in assorted nylon; please allow us to choose for you.
All TugawayCuwin toys are intended to be interactive toys that are always used in supervised play and training. Because of the strong scent of our products, these toys should never be left unattended with the dog.
Orders will generally be shipped to you by regular Australia Post (uninsured) or a best priced Courier.
How long does it take for your order to arrive?
Generally orders will be despatch TWICE per week on a Monday/Tuesday and Thursday/Friday depending on volume of orders. Once dispatched, regular Australia post/Courier delivery times apply. Please refer direct to Australia Post/courier for delivery times to your area. Tracking details will be sent to you once your order is packed ready to be despatched.
Shipping for BULKY items requiring couriers will be quoted and invoiced separately using Paypal. Couriers require a physical delivery address.
For more details on our delivery service please click on the appropriate link found in the footer menu.
We offer HASSLE FREE returns within 14 days of purchase if you change your mind. For more details please click on the appropriate link found in the footer menu.