Agility Skills Workbook - Training Drills for Dog and Handler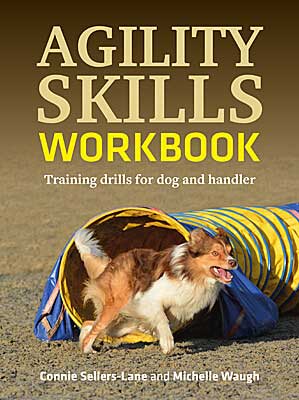 Agility Skills Workbook - Training Drills for Dog and Handler
Regular price
$4500
$45.00
Authors: Connie Sellers-Lane and Michelle Waugh
Format: Paperback
Length: 140 pages
Release Date: 2022
Confused about Germans and Ketschkers? Muddled by threadles and backside of jumps? The Agility Skills Workbook provides the answers!
Handling in agility is becoming increasingly sophisticated as dog and handler teams strive to complete ever more technical courses in the fastest possible time. The range of handling moves can appear daunting but, with the correct groundwork and guidance, learning can be both logical and effective.
In the Agility Skills Workbook, authors Connie Sellers-Lane and Michelle Waugh have devised a series of dedicated exercises for each handling skill, which include:
Tight turns: Pivot, Ketschker, tight front cross, tight rear cross
Loose turns: Open pivot, flat pivot, loose front cross, loose rear cross
Jump blinds: Blind crosses on a jump
Tunnel skills: Blind tunnel entrance, tight tunnel exit, tunnel threadles
Backside of jumps: Backside wrap pivot, backside front cross, backside grab turn, backside slice, backside serpentine, backside rear cross, backside German, backside blind, backside pivot slice
Jump threadles: threadle wrap, theadle slice
Each exercise starts with the basics, develops the skill, and then proofs the skill so both dog and handler have a complete understanding of what is required. Photo sequences illustrate exactly what to do and detailed diagrams give step-by-step guidance.
Finally, there is a series of full course plans designed to test all the handling skills you have acquired.
Created for beginners in the sport as well as those who wish to revisit foundation, this book is easy to follow, and packed full of valuable training advice, the Agility Skills Workbook puts positive learning at the forefront and provides that rock-solid foundation that is the key to future success.
About the Authors
Connie Sellers-Lane became involved in agility with her family's Golden Retriever in 2005 before moving on to Border Collies, reaching Championship level and competing at prestigious events like Crufts and Olympia. She has run her own agility training business, Fly-by-Agility, for the last 10 years, and has a special interest in teaching foundation skills. She has written two other best-selling books for First Stone: Agility for Starters and Foundation Fun and Games.
Michelle Waugh has competed in agility since 2009, working with many family-bred Border Collies under the Chazak prefix. She has reached Championship level and competed multiple times at Olympia. She has been training agility enthusiasts for the last eight years.
Together Connie and Michelle have established Fly-Zak Agility, which hosts training camps and workshops for a wide range of students, and has a reputation for kind, positive, and effective training.
Orders will generally be shipped to you by regular Australia Post (uninsured) or a best priced Courier.
How long does it take for your order to arrive?
Generally orders will be despatch TWICE per week on a Monday/Tuesday and Thursday/Friday depending on volume of orders. Once dispatched, regular Australia post/Courier delivery times apply. Please refer direct to Australia Post/courier for delivery times to your area. Tracking details will be sent to you once your order is packed ready to be despatched.
Shipping for BULKY items requiring couriers will be quoted and invoiced separately using Paypal. Couriers require a physical delivery address.
For more details on our delivery service please click on the appropriate link found in the footer menu.
We offer HASSLE FREE returns within 14 days of purchase if you change your mind. For more details please click on the appropriate link found in the footer menu.