Border Collies A Breed Apart: Book Two- Essential Life Skills and Learning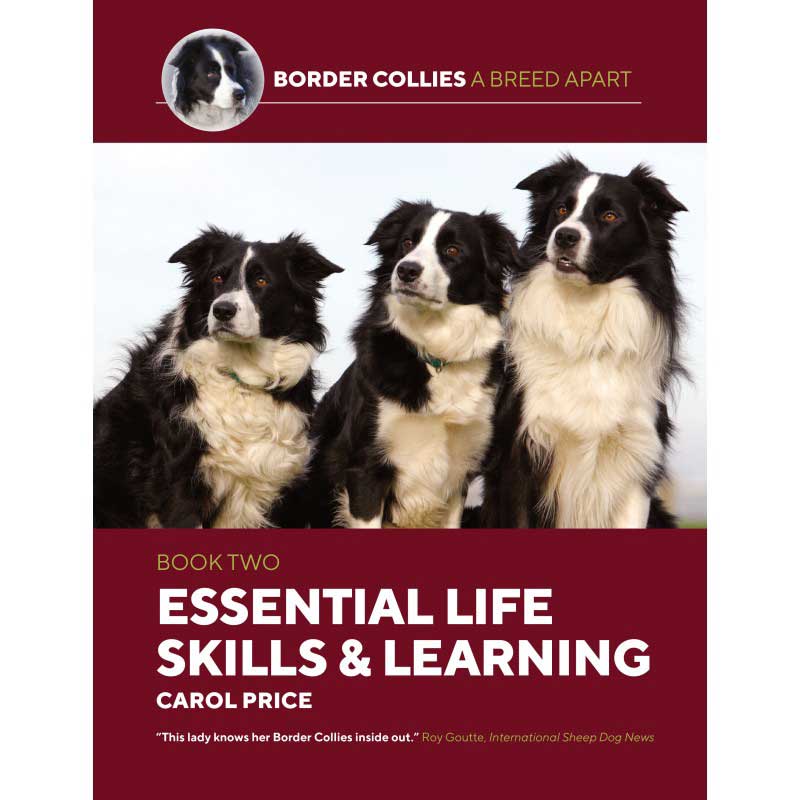 Border Collies A Breed Apart: Book Two- Essential Life Skills and Learning
Regular price
$6900
$69.00
In book one of the ground breaking three part series, Border Collies- A Breed Apart, highly respected author, Carol Price, explored the origins and nature of the Border Collie.

In this second volume, she focuses on the training process. She explores the training challenges that typically face Border Collie owners, explaining why these occur, and how by tailoring a training programme better suited to the individual mind of the Collie, we can successfully work through them.
Price shares what she believes to be the all- important exercises and lessons that Collies must learn, putting considerable emphasis on essential life skills, something she believes can often be overlooked or ignored, and is paramount to creating a happy, well-adjusted dog that will excel in training.
In Chapter one, Young Minds, Price begins by looking at when training should start, discussing pre-birth and post birth knowledge, so what is passed on through DNA and what is impacted by early experiences. She also highlights how the learning process works in dogs, and in what ways this differs to humans. She explains how dogs think in pictures, and the impact this has on the way they show emotions such as fear, excitement and anxiety.
In Chapter two, Education and Rewards, Price explains why we should think of raising our Collie as a learning journey, and the importance of having a clear idea in mind of all we want to teach the dog before we start. She then looks at the types of rewards we should use, discussing toys vs food, and the ways in which Collies respond to these different rewards.
Chapter three, Earliest Training and Handling dispels the myth of a puppy being a blank canvas, looking at both genetic influences and early experiences whilst still with the breeder. Price considers the impact of poor rearing, and how early handling can avoid poor communication and confrontation in later life. She includes what these experiences should consist of, and how from an early age we can expand tolerance and avoid 'wrong' behaviours, such as jumping up and nipping.
Chapter four, Focus, Co-operation and Impulse Control, looks at the early mental habits you can teach your Collie, in order to better control and shape his future behaviour. Prices places a great deal of emphasis on focus, explaining how we can become a fixation target for the dog, in replace of livestock. She provides detailed instructions on training focus, as well as ingraining and reinforcing co-operation, and teaching sustained focus and impulse control.
In Chapter five, Basic House Manners and Other Life Skills, Price talks us through the importance of putting boundaries in place within the home, focusing on establishing living spaces, routines, toilet training, car travel and collar and lead training.
Chapter six, Other Useful Exercises to Teach Your Dog, provides us with a range of exercises targeted towards helping your Collie master mental discipline, concentration and impulse control. These include;
Long Line Training
Down
Wait and Stay
Leave
Retrieve
Chapter seven, Recall Training, considers why recalls often fail, and how to teach a reliable recall beginning with focus. Price also addresses what to do with dogs that try to avoid being caught.
Chapter eight, Understanding and Shaping Your Dog's Social Brain, explores why social behaviour is more likely to go wrong in Collies, and therefore how they can elicit a more nervous, fearful or aggressive response when faced with a range of different social experiences and challenges. Price also advises how we can encourage more sociable habits, and why social competence matters.
In Chapter nine, Social Training, Price explains how we often fail to make our dogs more socially tolerant, by expecting them to see the world as we do. By becoming a mentor for our Collie in early training, we can help them to more successfully navigate social situations. Price introduces us to the 'Go See' command, as well as a number of other exercises to combat owner disconnection and enhance your relationship, including the correct use of toys to improve on focus, responsibility and impulse control. Finally she considers how and why negative social reactions develop, also looking at the effects of noise exposure.
Chapter ten, Advanced Control Training looks at the role of dual sensory processing in Collies, meaning they can respond to sight and sound simultaneously. Although obviously a working instinct, Price explains how it can be harnessed to benefit us in modern day sports, such as agility. She provides us with a series of distance and dual sensory processing training exercises including; down on the move, instant downs and mid chase recalls.
In the final chapter, Training Problems, Price takes us through some of the reasons why your training may be going wrong, along with possible solutions.
Described by head of the Border Collie Trust, Ben Wilkes as "A series that could change your understanding of Border Collies forever.", this book will increase your knowledge of this special breed,  helping you get the most out of your relationship.
Orders will generally be shipped to you by regular Australia Post (uninsured) or a best priced Courier.
How long does it take for your order to arrive?
Generally orders will be despatch TWICE per week on a Monday/Tuesday and Thursday/Friday depending on volume of orders. Once dispatched, regular Australia post/Courier delivery times apply. Please refer direct to Australia Post/courier for delivery times to your area. Tracking details will be sent to you once your order is packed ready to be despatched.
Shipping for BULKY items requiring couriers will be quoted and invoiced separately using Paypal. Couriers require a physical delivery address.
For more details on our delivery service please click on the appropriate link found in the footer menu.
We offer HASSLE FREE returns within 14 days of purchase if you change your mind. For more details please click on the appropriate link found in the footer menu.