Dogs in Translation – A Unique Journey of Observation and Interpretation (Hardcover)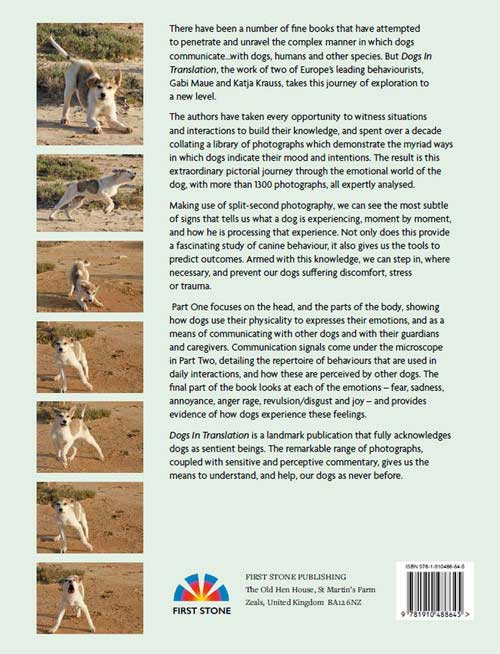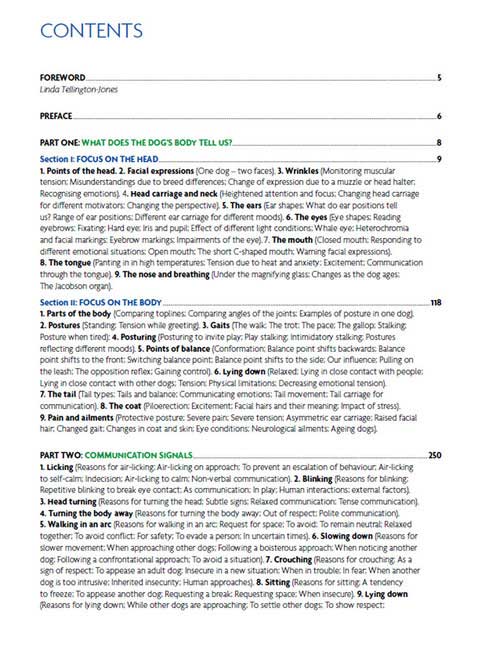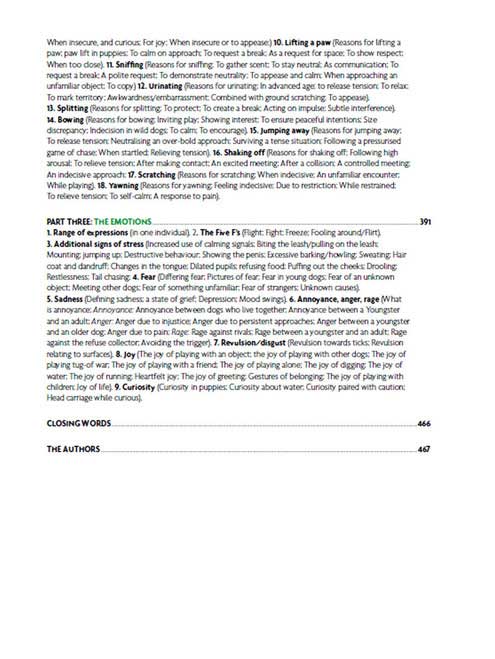 Dogs in Translation – A Unique Journey of Observation and Interpretation (Hardcover)
Regular price
$11900
$119.00
Author:  Katja Krauss and Gabi Maue
Publication Year: 2022
No of pages: 468
Also available - Dogs in translation WORKBOOK. Please refer separate listing
There have been a number of fine books that have attempted to penetrate and unravel the complex manner in which dogs communicate with dogs, humans and other species. But Dogs In Translation, the work of two of Europe's leading behaviourists, Gabi Maue and Katja Krauss, takes this journey of exploration to a new level.

The authors have taken every opportunity to witness situations and interactions to build their knowledge, and spent over a decade collating a library of photographs which demonstrate the myriad ways in which dogs indicate their mood and intentions. The result is this extraordinary pictorial journey through the emotional world of the dog, with more than 1300 photographs, all expertly analysed.

Making use of split-second photography, we can see the most subtle of signs that tells us what a dog is experiencing, moment by moment, and how he is processing that experience. Not only does this provide a fascinating study of canine behaviour, it also gives us the tools to predict outcomes. Armed with this knowledge, we can step in, where necessary, and prevent our dogs suffering discomfort, stress or trauma.

Part One focuses on the head, and the parts of the body, showing how dogs use their physicality to expresses their emotions, and as a means of communicating with other dogs and with their guardians and caregivers. Communication signals come under the microscope in Part Two, detailing the repertoire of behaviours that are used in daily interactions, and how these are perceived by other dogs. The final part of the book looks at each of the emotions – fear, sadness, annoyance, anger rage, revulsion/disgust and joy – and provides evidence of how dogs experience these feelings.

Dogs In Translation is a landmark publication that fully acknowledges dogs as sentient beings. The remarkable range of photographs, coupled with sensitive and perceptive commentary, gives us the means to understand, and help, our dogs as never before.

What the experts are saying…

"Dogs in Translation changes the game from the traditional human-to-dog monologue to human-with-dog dialogue style of communication that marks the modern, compassionate trainer. With due consideration to breed and circumstances, this book is a stunningly comprehensive pictorial and narrative reference of what dog behavior can mean to those caregivers who are ready to listen."
Susan G. Friedman, Ph. D., Behavior Works

"Rarely does a book come along that sets a new paradigm in the dog world. This is such a book. The spectacular format, 1300 large photos and descriptive explanations will give readers new possibilities for understanding dogs."
Linda Tellington-Jones Ph.D (Hon)

"I wish the average dog owner could accurately predict near-future behavior from a dog's postural behaviors. Dogs in Translation would fit the bill quite well and would be a useful read for those working toward becoming a professional in the dog training/care business as well."
Dr. James O'Heare
Behaviorologist. Owner, Companion Animal Sciences Institute Author, The Sciences and Technology of Dog Training

"An astonishingly rich compendium of every possible movement a dog might make: from the biggest yawn to the smallest twitch of an eyebrow. Sure to delight every close observer of dogs in action."
Clive D. L. Wynne, PhD, FLS,
Professor, Department of Psychology, Director, Canine Science Collaboratory, Arizona State University,

"We have the opinion and the dogs have the facts." So says one of the authors of this amazing book, acknowledging that we are always guessing about how a dog is feeling. But that important caveat introduces us to an astounding array of excellent photographs, detailing every possible visual signal a dog could give us that might signal its internal state. This book is an accomplishment to celebrate, refining as it will our abilities to observe subtle but important visual signals from our dogs. If you're serious about canine behavior, put this on your "must have" list!
Patricia B. McConnell, Ph.D., Certified Applied Animal Behaviorist

About the authors- Gabi Maue is a Level 3 Tellington TTouch practitioner for dogs and small animals. She hosts seminars and lectures on the Tellington TTouch method, on communication, learning behavior and behavioral problems as well as on the neuropsychology of dogs.

Katja Krauß is a state-approved dog expert, TopTrainer, and runs the dog school GREH in Berlin. She is also a Tellington TTouch Instructor, of which there are only around twenty in the world, for dogs and small animals. She has already written three dog books for various publishers and has released a DVD. Her best-known client is the sheikh of Dubai, to whom she has been flying for years to train the trainers there.
Orders will generally be shipped to you by regular Australia Post (uninsured) or a best priced Courier.
How long does it take for your order to arrive?
Generally orders will be despatch TWICE per week on a Monday/Tuesday and Thursday/Friday depending on volume of orders. Once dispatched, regular Australia post/Courier delivery times apply. Please refer direct to Australia Post/courier for delivery times to your area. Tracking details will be sent to you once your order is packed ready to be despatched.
Shipping for BULKY items requiring couriers will be quoted and invoiced separately using Paypal. Couriers require a physical delivery address.
For more details on our delivery service please click on the appropriate link found in the footer menu.
We offer HASSLE FREE returns within 14 days of purchase if you change your mind. For more details please click on the appropriate link found in the footer menu.