Get on the Ball Two 3-DVD set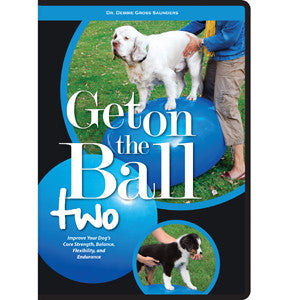 Get on the Ball Two 3-DVD set
Regular price
$5900
$59.00
Subtitle: Improve Your Dog's Core Strength, Balance, Flexibility, and Endurance
Author: Dr. Debbie Gross Saunders
Format: 3 DVD Set, NTSC format
Running Time: 2 hours, 50 minutes
Bonus Materials: 2 training articles and 5-page companion notes in PDF format
Release Date: Fall 2009
Whether you're asking your dog to jump off the couch to go for a walk, compete in an agility event, lure course, herd livestock, or go for a hike, your dog needs the strength to perform the activity with as little risk of injury as possible. Many dogs are lacking strength in the core muscle group: the lower back and abdominals. In performance dogs we see many lower and mid-back problems as well as iliopsoas strains. In non-performance dogs, the first place we see weakness in aging dogs is usually the hind end and lower back. Working your dog on a Therapy Ball, EggBall, or PhysioRoll is an excellent and safe way to develop these muscles, which will aid in the reduction and prevention of problems.
But better core strength is only one of the benefits gained from regular workouts on the ball. Ball work improves your dog's balance and body awareness, increases his range of motion and flexibility, improves his reflexes, and leads to increased muscle tone and endurance. Ball work is an excellent cross-training activity you can do in the comfort of your living room regardless of the weather.
This DVD provides four easy-to-follow strengthening programs: puppy, beginner, intermediate, and advanced. Besides providing detailed demonstrations of each program with experienced dogs, the DVD also includes a seminar Dr. Saunders held for ball work novices so that you can see the common mistakes and problems people have.
Orders will generally be shipped to you by regular Australia Post (uninsured) or a best priced Courier.
How long does it take for your order to arrive?
Generally orders will be despatch TWICE per week on a Monday/Tuesday and Thursday/Friday depending on volume of orders. Once dispatched, regular Australia post/Courier delivery times apply. Please refer direct to Australia Post/courier for delivery times to your area. Tracking details will be sent to you once your order is packed ready to be despatched.
Shipping for BULKY items requiring couriers will be quoted and invoiced separately using Paypal. Couriers require a physical delivery address.
For more details on our delivery service please click on the appropriate link found in the footer menu.
We offer HASSLE FREE returns within 14 days of purchase if you change your mind. For more details please click on the appropriate link found in the footer menu.