Proofing Jump Work with Motion 3-DVD Set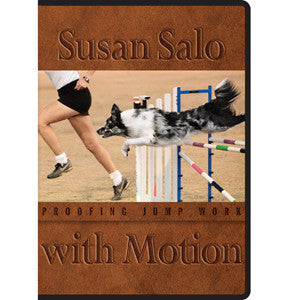 Proofing Jump Work with Motion 3-DVD Set
Regular price
$8900
$89.00
Author: Susan Salo
Format: DVD, 3 discs, NTSC format
Running Time: 4 hours, 6 minutes
Release Date: 2012
This DVD specifically addresses the proofing of motion in your dog's jump work. Many handlers aren't sure of what to do next after completing the Puppy Jumping and Foundation Jumping work. The dogs can do these grids effortlessly, but in real-life sequencing or trial situations, there are too many bars down. These dogs have the jumping skills but can't put them together with handler motion, which prevents the team from coming together and being in sync.
There are many nuances to motion. How we move communicates a great deal of information to the dog and has a direct impact on the dog's motion. Do we move forward with power and speed when the course calls for it? Do we move smoothly and efficiently when making transitions? Lots of proofing is required for us to understand how our motion affects our dogs.
Motion from us is pressure to the dog. Some dogs deal with this pressure more easily than others. For dogs that have difficulty with motion, we can isolate motion and handling just as we isolated specific skills in the foundation jumping work. We start all of the work without motion, then we add motion, and finally, we add handling. How quickly this work progresses depends on the individual dog. For some dogs, pressure must be added very gradually. Always keep in mind that your dog has to make many decisions in a fraction of a second; he not only needs to figure out where he's going, but what's required of him to get there. So take your time and enjoy the work.
Orders will generally be shipped to you by regular Australia Post (uninsured) or a best priced Courier.
How long does it take for your order to arrive?
Generally orders will be despatch TWICE per week on a Monday/Tuesday and Thursday/Friday depending on volume of orders. Once dispatched, regular Australia post/Courier delivery times apply. Please refer direct to Australia Post/courier for delivery times to your area. Tracking details will be sent to you once your order is packed ready to be despatched.
Shipping for BULKY items requiring couriers will be quoted and invoiced separately using Paypal. Couriers require a physical delivery address.
For more details on our delivery service please click on the appropriate link found in the footer menu.
We offer HASSLE FREE returns within 14 days of purchase if you change your mind. For more details please click on the appropriate link found in the footer menu.