Reliable Running A-Frames - A method for all types of dogs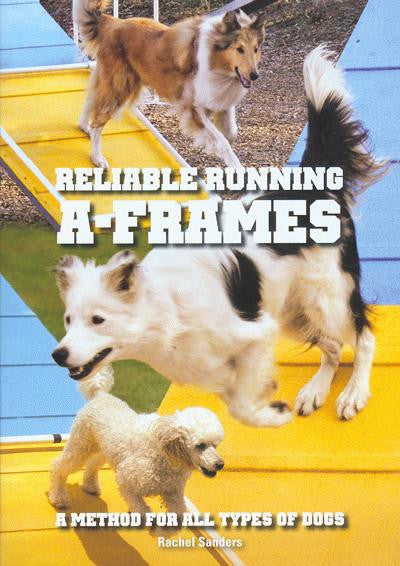 Reliable Running A-Frames - A method for all types of dogs
Regular price
$3995
$39.95
Author: Rachel Saunders
Publisher: Clean Run Productions LLC
Format: DVD
Run Time: 1 hr 43 mins
Release date: 2008
More and more handlers desire a running A-frame. Some worry about the unknown long-term physical effects of stopping dogs on the obstacle. Some feel that their dog's structure or a previous injury makes stopping him unsafe. Others have dogs that clearly indicate they aren't physically comfortable with the behavior being asked for, no matter how hard the handler works on weight shift and motivation. And still others have competitive aspirations and want to perform the obstacle as quickly as possible. But no matter why you want a running A-frame, there is finally a realistic approach to teaching an accurate and consistent running A-frame to all varieties of dogs.


Rachel Sanders has tried a variety of running-contact training methods over the years—including stride regulators, foot targets, jumps after the A-frame, no props on the A-frame, and more—each method helped only a small percentage of her students' dogs, and she saw inconsistent results with her own dogs as well. Rejecting the notion that dogs must have the "right" stride length or a certain body type to master a running A-frame, Rachel continued to search for a method not just for her own dogs, but one that a majority of her students could reliably train. She kept thinking that long ago trainers believed you couldn't teach dogs to weave on both sides, and we now know how untrue that is! We just need to get more creative in our approach to training contacts.


Rachel's A-frame "box" method promotes the stride lengths required for a dog to reach the contact zone and that are comfortable for the dog. Rachel uses the box with her own dogs and confidently encourages her students to train a running A-frame with their new agility dogs and to retrain competing dogs where appropriate. Now she shares the method with you.
Besides demos with Rachel's dogs, this DVD includes training case studies of a number of different dogs. It also includes a 13-page PDF file containing supplemental training notes.
Orders will generally be shipped to you by regular Australia Post (uninsured) or a best priced Courier.
How long does it take for your order to arrive?
Generally orders will be despatch TWICE per week on a Monday/Tuesday and Thursday/Friday depending on volume of orders. Once dispatched, regular Australia post/Courier delivery times apply. Please refer direct to Australia Post/courier for delivery times to your area. Tracking details will be sent to you once your order is packed ready to be despatched.
Shipping for BULKY items requiring couriers will be quoted and invoiced separately using Paypal. Couriers require a physical delivery address.
For more details on our delivery service please click on the appropriate link found in the footer menu.
We offer HASSLE FREE returns within 14 days of purchase if you change your mind. For more details please click on the appropriate link found in the footer menu.