Flexiness®FitStage Beam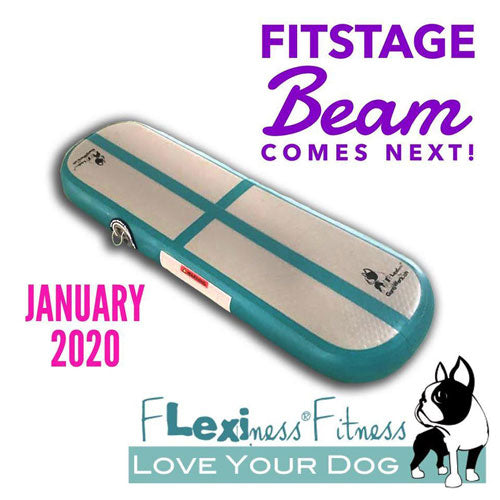 Flexiness®FitStage Beam
Regular price
$41900
$419.00
Sale price
$36900
$369.00
Save $50
Flexiness®FitStage Beam
The FitStage Beam is the ideal platform that combines the needs of dog and dog fitness training.
The FitStage is not a mat in the traditional sense, it is stable in itself but not a rigid plate, the surface gives slightly under load and in jumps the FitStage springs from what is very gentle on the joints.
Combined with other Flexiness® tools, it transforms into a "wobbly platform" comparable to a wobbly board but with the advantage that we do not use rigid material like wood or plastic.
The FitStage is lightweight, made of 100% tamper-proof and waterproof material, easy to inflate and is ready to use in seconds. After training, it can be cleared to save space. The waterproof surface makes it easy to clean and can also be used as a floating platform in pools.
Dogs love the FitStage, they accept it easily and love to sit or lie down. Thus, the FitStage is the ideal place to work with the dog, because where does it work better concentrated than in a place where you feel comfortable.
The Flexiness®FitStage is currently available in 4 different shapes:
1. 70x70x10cm (blue / gray) with shape-check-cross - SQUARE70 - IN STOCK
2. 100x100x20cm (Purple / Gray) with shape-check-cross - SQUARE100 - 
3. 100x40x20cm (turquoise / Gray) with Form Check Cross - BAR - special order 
4. 100 x 30 x 10cm - Fitstage Beam - in stock 
5.  50x50x50 / 10cm (Pink / Gray + Violet / Gray) - WEDGE - IN STOCK
** Requires an adapter compressor (sold separately) for your pump to inflate ***
Who is the FitStage for?
- Treatment area for therapists
- Training area in the areas of dog fitness, dog trainer / dog school
- active dog owners
If damaged, the FitStage can be repaired unlike other inflatable tools!
Orders will generally be shipped to you by regular Australia Post (uninsured) or a best priced Courier.
How long does it take for your order to arrive?
Generally orders will be despatch TWICE per week on a Monday/Tuesday and Thursday/Friday depending on volume of orders. Once dispatched, regular Australia post/Courier delivery times apply. Please refer direct to Australia Post/courier for delivery times to your area. Tracking details will be sent to you once your order is packed ready to be despatched.
Shipping for BULKY items requiring couriers will be quoted and invoiced separately using Paypal. Couriers require a physical delivery address.
For more details on our delivery service please click on the appropriate link found in the footer menu.
We offer HASSLE FREE returns within 14 days of purchase if you change your mind. For more details please click on the appropriate link found in the footer menu.