How to Strengthen and Maintain Your 2-On/2-Off Contacts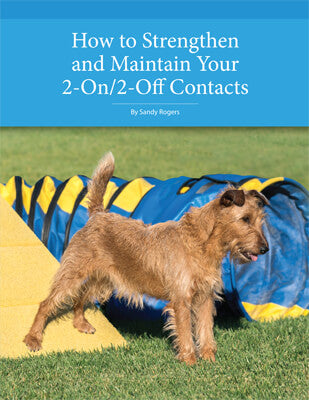 How to Strengthen and Maintain Your 2-On/2-Off Contacts
Regular price
$3900
$39.00
Author: Sandy Rogers
Format: Paperback
Length: 72 pages
Size: 8" x 11"
Release Date: May 2019
Stop spending hard-earned dollars and precious time and still not qualifying because of missed contacts! It's time to improve the speed, accuracy, and independence of your 2-on/2-off contacts.
Why do so many dogs that start their competition careers with an excellent 2-on/2-off contact behavior lose it? The sequence and course work that we need to practice to get in sync with our dogs can undermine some of our trained behaviors very quickly and naturally. What we do as we are handling the contacts as part of sequences will raise new questions for our dogs—questions that did not come up in the initial training because the picture is so different during handling than it was during training. 
If we don't answer these questions, our dogs naturally begin to draw unwanted conclusions—often when we are competing—which cause our initial training to erode. To retain the 2-on/2-off behavior we worked so hard to train, we need to do specific contact maintenance work outside of sequence and course work. 
The maintenance program described in this book is designed to help you perfect and preserve your dog's 2-on/2-off performance. You will learn how to continuously increase your dog's comprehension of the 2-on/2-off behavior by addressing all the questions that can potentially erode the behavior in competition.
Your dog will understand to drive to the bottom of the contact no matter where you are or what distractions there are. Your release word will become stronger because your dog learns that he can't self-release on movement, praise, or because a certain
Equipment Note: There are 4 levels of proofing and maintenance work. Levels 1-3 can all be done with a travel plank. Level 4 requires training time on regulation contacts.
About the Author
Sandy Rogers has been teaching obedience and agility since 1991. Her career switched to focus solely on agility in 1999 when she founded ACE Dog Sports in San Francisco, California. Sandy's specialty is helping the average handler get to the next level and getting the most out of non-traditional breeds. Her students' accomplishments are a source of pride in and out of the competition ring. With her Border Collie Brink and JRT Quill Sandy is a four-time National Champion and has proudly represented the USA at the World Agility Open in 2011, 2012, and 2013 where "Quilly" brought home gold, silver, and bronze medals. Sandy has written for Clean Run since 2009, teaches seminars in person and online, and has two DVDs available.
Orders will generally be shipped to you by regular Australia Post (uninsured) or a best priced Courier.
How long does it take for your order to arrive?
Generally orders will be despatch TWICE per week on a Monday/Tuesday and Thursday/Friday depending on volume of orders. Once dispatched, regular Australia post/Courier delivery times apply. Please refer direct to Australia Post/courier for delivery times to your area. Tracking details will be sent to you once your order is packed ready to be despatched.
Shipping for BULKY items requiring couriers will be quoted and invoiced separately using Paypal. Couriers require a physical delivery address.
For more details on our delivery service please click on the appropriate link found in the footer menu.
We offer HASSLE FREE returns within 14 days of purchase if you change your mind. For more details please click on the appropriate link found in the footer menu.