The Pre-sports Puppy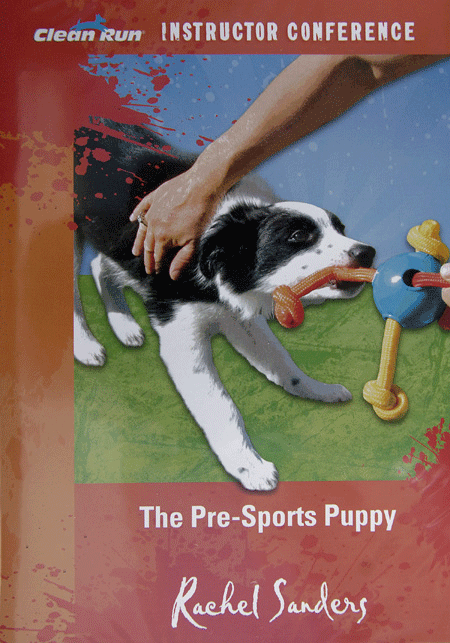 The Pre-sports Puppy
Regular price
$3900
$39.00
Author: Rachel Saunders
Format: DVD
Running Time: 1 hr 25 mins
Release date: 2009
This DVD is a live recording of a presentation on training the pre-sports puppy at the 2007 Clean Run Instructor conference. From the age of 3 to 14 months, a puppy is a sponge. It is important that all dogs are taught appropriate behaviour at this critical phase of their life. For puppies that have a future in competitive dog sports the proper foundation is crucial. In this DVD, Rachel Saunders discusses her training methods for creating a balance between play and control in puppies including:
• Sit, stand and down (stationary and moving)
• Stay
• Food and toy play
• Basic recalls and recalls with distractions
• Verbal directionals – left and right
• Hand touches
• Body awareness exercises – wobble board and teeter bang game • Initial jump work ,etc
"getting a new pup in a couple of weeks time, so I'm doing my homework to make sure I do everything right this time – LOL , will most likely make new mistakes! This DVD is great for "filling in the holes" and also for reminding me of the not so obvious things to do/not to do."
Orders will generally be shipped to you by regular Australia Post (uninsured) or a best priced Courier.
How long does it take for your order to arrive?
Generally orders will be despatch TWICE per week on a Monday/Tuesday and Thursday/Friday depending on volume of orders. Once dispatched, regular Australia post/Courier delivery times apply. Please refer direct to Australia Post/courier for delivery times to your area. Tracking details will be sent to you once your order is packed ready to be despatched.
Shipping for BULKY items requiring couriers will be quoted and invoiced separately using Paypal. Couriers require a physical delivery address.
For more details on our delivery service please click on the appropriate link found in the footer menu.
We offer HASSLE FREE returns within 14 days of purchase if you change your mind. For more details please click on the appropriate link found in the footer menu.