The Workout Book for Dogs - A Complete Guide to Fitness Training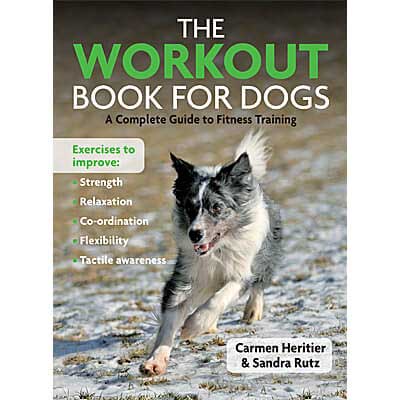 The Workout Book for Dogs - A Complete Guide to Fitness Training
Regular price
$4900
$49.00
Authors: Carmen Hertier and Sandra Rutz
Format: Spiral
Length: 204 pages
Release Date: 2022
At long last, we have a book that takes the mystery out of fitness training!
We all care about our dogs' physical well-being, but how do we develop and maximize their potential? How do we help a dog to recover from an injury? And how do we make the best use of fitness equipment?
Authors Carmen Hertier and Sandra Rutz have devised practical, easy-to-follow exercises that are designed to address the key components of fitness:
Strength
Relaxation
Flexibility
Coordination
Tactile awareness
The exercises are categorized to target specific parts of the body and graded so they are suitable for dogs new to fitness training, those ready for more advanced work, and the "professionals" needing a bigger challenge. There are also exercises for dogs with distinct needs, such as puppies and seniors, dogs recovering from injury, and those with ongoing health issues. The training is outlined step by step and is based on 100% positive reinforcement.
The Workout Book For Dogs is a comprehensive guide for all those who want to enhance their knowledge and understanding of canine fitness. If you are a professional working in the field, it will expand your repertoire. If you are the handler of a sports dog, the book will help you to keep him performing at his peak. If you own a companion dog, you can take pride in keeping him fit and healthy so he leads a long life.
The Workout Book For Dogs is packed with ideas to make training fun and varied, which means your dog will enjoy it, too!
Illustrated with over 200 color photographs.
Contents
Section 1: Theoretical Principles
Section 2: Exercises for the Neck and Shoulder Muscles
Section 3: Exercises for the Fore Limbs
Section 4: Exercises for the Front Thigh Muscles
Section 5: Exercises for the Outer Thigh and Hip Extensor
Section 6: Exercises to Relax the Back Muscles
Section 7: Exercises to Activate the Back Muscles
Section 8: Exercises to Strengthen the Pelvic Floor 
Section 9: Exercises to Train Body Awareness and Co-ordination of the Hind Limbs
Section 10: Exercises for Specific Needs
Section 11: In the Gym - Combination exercises and caveletti training
About the Authors
Carmen Heritier qualified at the University of Tennessee as a canine fitness trainer, specialising in clicker training. She now works as a fitness trainer and also teaches dog trainers, physiotherapists, and vets. In addition, Carmen is an independent researcher in dog sciences for German and Swiss universities. Her first book, Gymnastricks, has received international acclaim.
Sandra Rutz worked as a veterinary assistant for 20 years before qualifying as a small animal physiotherapist in 2010. She specialized in working with dogs for two years before opening her own clinic. Now qualified as an osteopath, Sandra has focused on devising therapies for sport dogs. She works closely with handlers on training techniques, and is a much sought-after speaker on canine fitness.
Orders will generally be shipped to you by regular Australia Post (uninsured) or a best priced Courier.
How long does it take for your order to arrive?
Generally orders will be despatch TWICE per week on a Monday/Tuesday and Thursday/Friday depending on volume of orders. Once dispatched, regular Australia post/Courier delivery times apply. Please refer direct to Australia Post/courier for delivery times to your area. Tracking details will be sent to you once your order is packed ready to be despatched.
Shipping for BULKY items requiring couriers will be quoted and invoiced separately using Paypal. Couriers require a physical delivery address.
For more details on our delivery service please click on the appropriate link found in the footer menu.
We offer HASSLE FREE returns within 14 days of purchase if you change your mind. For more details please click on the appropriate link found in the footer menu.