Phenomenal Stopped Contacts in 30 Days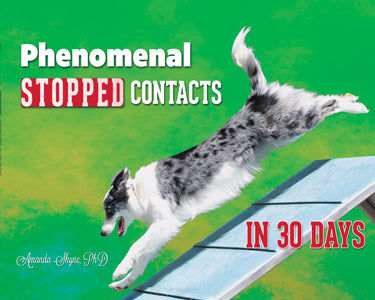 Phenomenal Stopped Contacts in 30 Days
Regular price
$3500
$35.00
Author: Amanda Shyne, PhD
Format: Paperback
Length: 96 pages
Size: 10" x 8"
Release Date: February 2013
Training an independent stopped contact allows you, the handler, freer movement around the course, and the ability to get into position to cue upcoming challenges.
This book contains 59 training steps designed to be completed over 30 days to improve the specific skills that are critical to achieving a fast, reliable stopped contact performance:
Speed:

 

Your dog must enter the contact with speed and continue to stride over the contact until he moves into his target position.
Control:

 

Your dog must have the reinforcement history to make stopping in the target position more rewarding than running to the next obstacle.
Target Position:

 

Your dog must stride quickly into position without creeping or slowing down more than is physically necessary. 
Entries:

 

Your dog must enter the contact safely and at an angle that allows him to maintain his speed over the entire piece of equipment.
Exits:

 

Your dog must maintain his target position until you verbally release him from the contact. In addition, your dog must understand verbal cues telling him to turn toward you and/or away from you at the contact exit.
By dissecting each aspect of your dog's performance, you can reward one specific behavior at a time; thereby helping you clarify to your dog how you want the entire piece of equipment completed.
If you have a new dog, start at step 1. But if you have a dog already competing and you are trying to improve your dog's speed over the contacts, for example, go through the book and review the training steps designed to improve speed. Or, if your dog needs a bit more self-control, complete the training steps designed to improve that one specific skill. In this way you will be able to customize a training plan tailored to you and your dog.
About the Author
Amanda Shyne has been competing in dog agility for 10 years. She and her Border Collie Dilly were the 2007 and 2009 USDAA Northeast Regional Grand Prix of Dog Agility winners in the 22" class. The team was also a USDAA Dog Agility Steeplechase finalist at the Cynosport World Games in 2008 and 2009, and a USDAA Grand Prix of Dog Agility finalist at the World Games in 2007, 2008, and 2009, placing 3rd in 2008. At the 2010 AKC National Agility Championships, Amanda and Dilly won the AKC International Jumpers class and the combined International Jumpers/Standard class. Amanda is a tenured professor of Psychology at Bridgewater State University in Massachusetts and teaches classes in statistics, learning, dog evolution, and animal behavior. She is a frequent agility seminar presenter.
Orders will generally be shipped to you by regular Australia Post (uninsured) or a best priced Courier.
How long does it take for your order to arrive?
Generally orders will be despatch TWICE per week on a Monday/Tuesday and Thursday/Friday depending on volume of orders. Once dispatched, regular Australia post/Courier delivery times apply. Please refer direct to Australia Post/courier for delivery times to your area. Tracking details will be sent to you once your order is packed ready to be despatched.
Shipping for BULKY items requiring couriers will be quoted and invoiced separately using Paypal. Couriers require a physical delivery address.
For more details on our delivery service please click on the appropriate link found in the footer menu.
We offer HASSLE FREE returns within 14 days of purchase if you change your mind. For more details please click on the appropriate link found in the footer menu.